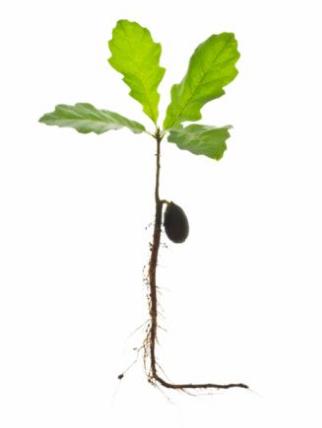 Do something with your life, my friend, that lasts beyond your time;
Create, remake, and innovate-leave something grand behind.
Give beauty root to render fruit for others when you go;
Expand its seeds by planting trees whose shade you'll never know.
                                            – Jon Krutulis (c) 2010
Now that's a fairly poignant metaphor: "Planting trees whose shade you'll never know." If you do an internet search on quotes about trees, you will find many quotes which capture that very sentiment (mine, the only one in verse); importantly, it is more than simply an Arbor Day slogan as it urges you to guide your actions in life in ways that benefit future generations–to plant something that blossoms value for future generations. I can think of no better example (in this case, literally a giver of trees) than the Scotsman George Donaldson. This was brought to mind after I stumbled on a poem called "The Redwoods" by Joseph Strauss honoring the majesty of trees in a way that reveals their capacity to inspire a deep, personal connection with nature – one which reveals how trees can become the sacred.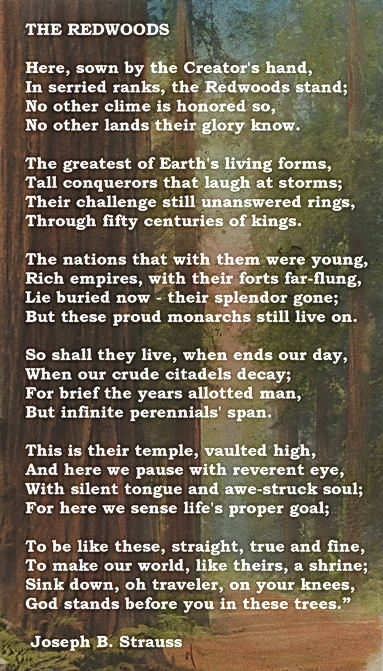 Several years ago we spent a few days at Spring Mill State Parkin south-central Indiana. Here you will find a virgin stand of old-growth Indiana forest 144 acres in size (more than doubled in 2010 from the original 67 acre tract.) The trail which winds through it, though short, is probably one of the nicest walks in the Midwest. The woods are considered western mesophytic as it is an intermediate between beech-maple and oak-hickory type forests. Some of its white oaks are stunningly impressive, stretching 150-200 feet into the air–the kind of trees that bring you to a stand-still, craning your neck to absorb the glory of the canopy. When I came across the Redwood Poem, I thought not of the mammoth cedars, but of Donaldson woods, which is a bit closer to my heart and home.
The terrain sits atop limestone caves and underground rivers and is pocked with many sinkholes which add to the  mystique of this forest. George Donaldson bought the stand of trees, now his namesake, in 1865 and resisted offers of the lumber merchants who had by then already cleared some 15 million Indiana acres. Instead, the Scotsman decided to keep it as a nature preserve, and after passing through several stewards who held to his wishes, the area became a state park in 1927.
When we visited several years ago, I would take my morning run through the park – at the crack of dawn – and always use the Donaldson Wood's trail as my cool-down stroll. It is quite amazing being the only person in those woods on a cool summer morning. Way better than church. In fact, that experience inspired me to write the following (which some of you have read several years ago) but as my theme of symbols has stuck upon the majesty of the trees, I thought it apropos to include it here.
Donaldson Woods
The hills of Indiana hide
A treasure thirty decades old,
Enormous virgins side by side,
Unmoving giants to behold.
This forest kept untouched for years
Preserved unspoiled by a Scot.
Ignoring neighbors' baffled jeers,
Said, "Nothing cut here; nothing shot!
Don't harm a single butterfly;
Don't break a single living stem;
Let painted ladies flutter by;
These eighty acres are for them."
And though this Scot's long since deceased
We've wisely kept these woods enshrined;
And now, around these parts, at least,
It stands the only of its kind.
A summer morning in this place
The first today to walk this trail,
The cobwebs tickling my face
With threads that trap a smaller scale.
These woods are warm and still, but clear;
Up high the canopy is spread.
Amazed that no one else is here,
Of this I'm pleased, don't be misled.
As vaporous morning light's thin rays
At angles shoot through tangled limbs
They fabricate this mystic haze
In narrow shafts where sunshine swims.
Beneath my feet, a limestone maze
That draws the earth in funneled bowls;
That shadowed world in darkness stays
And sips rain through these sunken holes.
Majestic beeches bear love's scars
"Will C. & Erin B. 4 Life.
Alas, each thoughtless cut that mars
Outlasts the love behind the knife.
Now right beneath an ancient oak
I stop abruptly in mid stride
As if inside my head it spoke,
This tree in me chose to confide.
A hundred-twenty feet in height,
Another twenty-five in girth,
Imagine, then, how deep roots might
Be anchored in this fertile earth.
You might suppose I misperceive,
But if this giant spoke to you
Please understand, you must believe:
As I do now, you'd listen too.
The white oak never says a word
An oracle is not its role;
Beneath all sound, its speaking's heard
In language deep within my soul.
"Relax a moment in my shade
And cleanse your thoughts beneath my sway;
Consider how your being's made
Evoking why you've come this way."
The beauty of these woods converge
Bestowing thrills I'll long embrace.
I feel the blissful truth emerge
Of why that Scotsman loved this place.
               – Jon Krutulis (c) 2006
jk