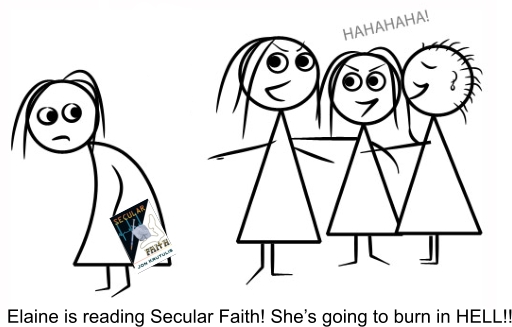 I'm not a huge fan of anti-bullying laws. It's not reflective on my opinion on bullying, of course, but rather my opinion on laws and policies which seem to embrace the notion that the only course to justice and fairness is through a set of rigid rules and guidelines that can be uniformly applied in perfect objectivity. The subjectivity is not eliminated, however, but only relegated to the perception of the victim. As one might observe in the recent popularity of harassment policies, this gives one significant leeway to abuse such power by declaring him or herself as the victim even when such a claim is somewhat dubious.
The recent attention paid to anti-bullying laws has been a result of an alarming number of suicides committed by gay and lesbian teens as a result of ostracizing and intimidation directed at their sexual orientation. This, of course, is inexcusable and intolerable. No greater failure of the Christian ideal can be identified than the use of its principles to drive vulnerable teens to suicide; I would imagine that one whose words and actions result in such horrible consequences, by the principles of their own dogma, must see themselves (unless delusional) as far more insipid than those with sexual orientations that don't match the Christian ideal–you have essentially driven one to the worst of fates through overt judgement and condemnation.
I greatly commend efforts such as the "It Gets Better" movement which offers support and hope to those who feel lost and separated; this is the best way to combat the hatred and ignorance which traipses around in a disguise of phony love. The use of legislation, however, to combat ignorance is most likely the wrong path to follow. I've already witnessed instances where kids are given the 'bully' tag not for mean-spiritedness, but for simply making the wrong call as a developing kid. It seems to be a result of empowering those who are ready to assume victim status.
When we impose rigid guidelines in the name of fairness, we end up with those absurdities that every so often garner media attention–such as a girl being suspended for popping a Midol. The argument seems to be that if we make an exception for Midol, we must make exceptions for heroine users as well, which strikes me as patently absurd.
Recent anti-bullying legislation efforts in Michigan drew much attention. In response to the suicide of Matt Eppling, a gay teen unacceptably harassed by his peers, Democrats sponsored a bill which aimed to put a stop to future incidents. In a act which completely ignored the dead elephant in the room (religion), Republicans insisted on including the following language:
THIS SECTION DOES NOT ABRIDGE THE RIGHTS UNDER THE FIRST AMENDMENT OF THE CONSTITUTION OF THE UNITED STATES OR UNDER ARTICLE I OF THE STATE CONSTITUTION OF 1963 OF A SCHOOL EMPLOYEE, SCHOOL VOLUNTEER, PUPIL, OR A PUPIL'S PARENT OR GUARDIAN. THIS SECTION DOES NOT PROHIBIT A STATEMENT OF A SINCERELY HELD RELIGIOUS BELIEF OR MORAL CONVICTION OF A SCHOOL EMPLOYEE, SCHOOL VOLUNTEER, PUPIL, OR A PUPIL'S PARENT OR GUARDIAN. (What's with politicians and SHIFT-LOCK?)
In spite of their ordinary fondness for the 1st Amendment, Democrats responded to this provision with intense ire, reasoning that it merely a mechanism to continue the very same type of denigration toward gays that caused the problem in the first place. Although I abhor the religious perspective on this in general, I do sympathize with the Republican concern here; we are in a load of trouble if simply vocalizing your belief can be essentially tagged as bullying. Anti-bullying would seem to become a mechanism of censorship. Surely, though, even the dimmest of Republicans can recognize the Catch 22 inherent in this exemption. If not, simply offer up the following scenario to the Republican in question:  "What if my sincerely held moral conviction is that God does not exist? Am I free to share that statement as well?" But as the Republicans do not in general abide by this principle (find out how well a teacher who expresses their moral belief that students be informed about birth control fares in a Republican community) it is probably more laughable that they included it than it is that Democrats remained so opposed.
Sam Harris clearly identified the problem several years ago when he blamed religious moderates for this post-modern mess. The dead elephant in the room is, of course, religion. The way to end this problem is not with a stupid anti-bully law at the end of the causal line, but rather through strong, collective behavior that rejects the validity of the fundamentalist position that homosexuality is wrong. Many religious moderates confound the problem by demanding that we have it both ways: homosexuality can be both wrong and tolerated. As a result, it is possible to pass both anti-bullying laws (which target those who would ostracize gays) and anti-gay marriage laws and amendments (which ostracizes gays.) Note the familiar post-modern hue of "gayness can be wrong for me and right for you–yay! now we're all happy!"
I would suggest, however, that the problem that leads to gay teens committing suicide rarely completely hinges on the insensitive harassment of a few ignorant, bigoted peers. Most people are capable of filtering out a few assholes (we've all done it in the past, I think.) The struggle that is most difficult for a gay teen, rather, is the general overwhelming rejection of that teen's nature by society as a whole–coping with the perception that what naturally attracts him or her sexually is generally believed deviant and immoral. Eliminating the meanness and cruelty of the occasional bully is a worthy objective, but ultimately, if it is the suicides that bother us, we need to recalibrate our moral perspective. When we examine the question of "Is homosexuality immoral?" we need to develop into a society of thinking individuals who reject the legitimacy of the answer "Yes, because the Bible says so!"  That is simply no longer good enough.
jk